Hyperpolyglot is an unconventional language learning app. It is pioneering. You can use it on it's own and save money. However, I hope you will do as I do and use it with a structured course; particularly if you are new to language learning.
Download free on
iPadOS 13+
We developed the Hyperpolyglot language learning app to solve problems highlighted in reviews of existing apps. It gives you:
Flexibility and ease of use.
Quicker learning by linking of images to text.

Speech and keyboard input and outpu

t.
A 1/2 speed playback option to aid learning correct pronunciation.
Complete control over all your words and phrases.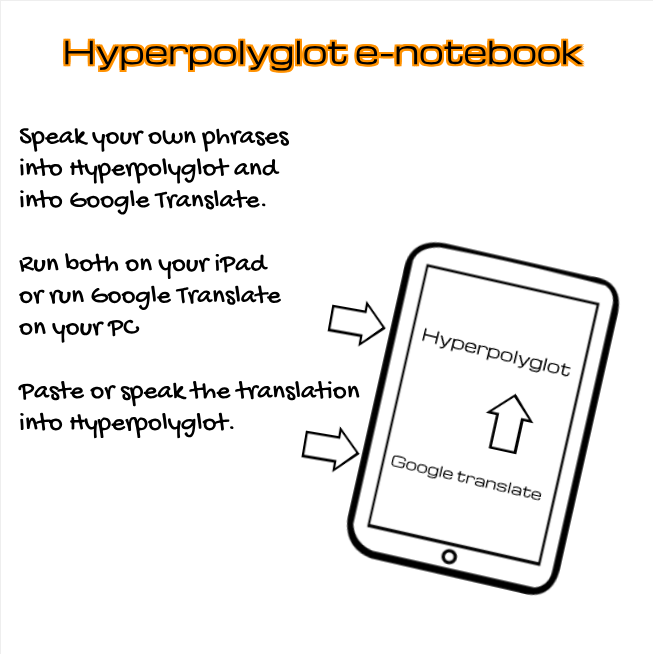 Hyperpolyglot language learning app uses A.I.
Rule based Artificial Intelligence (A.I.) gives you helpful clues in tests and remembers if you have answered correctly. You can reset your test score at any time. We always say…"The hint system is on your side". You will know if you are cheating!
In my blog post, Best way to learn a language: What the experts say. I explain how I am using Hyperpolyglot with the highly rated, structured learning program, GreekPod101. This is how I speed up learning Greek from beginner level. Here's a link to a good review of TaiPod101; another of the LanguagePod101 family. It seems they are all of a similar high quality.
Before using Hyperpolyglot, refer to Hyperpolyglot Guide for "How-to" videos.
Please tell us what languages you are learning with it. Create an account and start a forum thread on its use in your target language.
Overview Hyperpolyglot language learning app.
Language learning app Summary
Use with up to 10 languages at the same time.
Enter, edit and delete languages, words and phrases.
Test yourself.
Tap play to listen.
Tap canvas to link an image.
All stored in your iCloud.
No in-app ads even in the free version.
One in-app purchase unlocks the canvas and words limit.
Free version has no time limit.
Download free on
iPadOS 13+