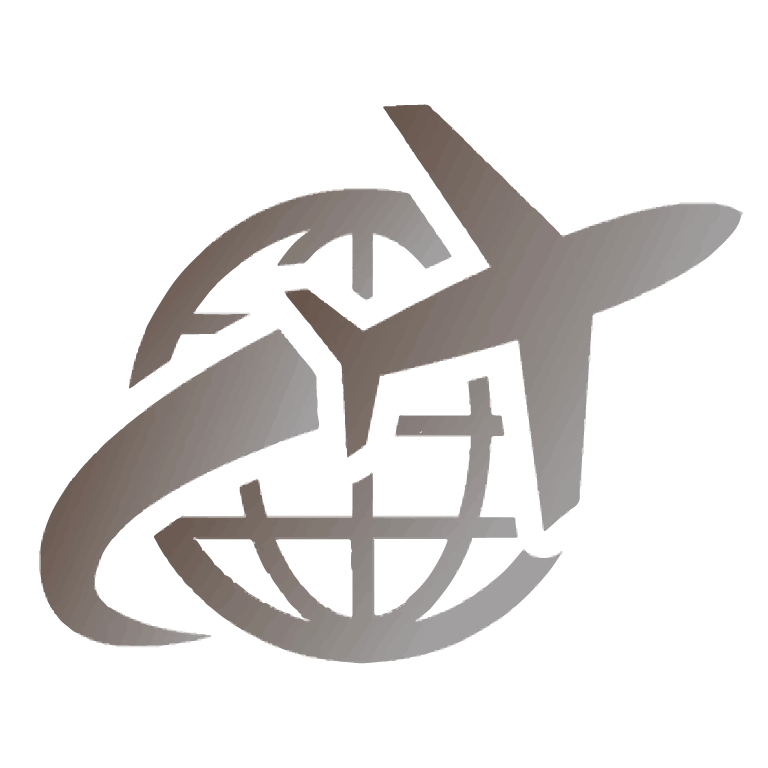 Hyperpolyglot is an advanced and very flexible e-notebook designed specifically for language learning. We like to think of it as the "Swiss Army Knife" of language learning apps.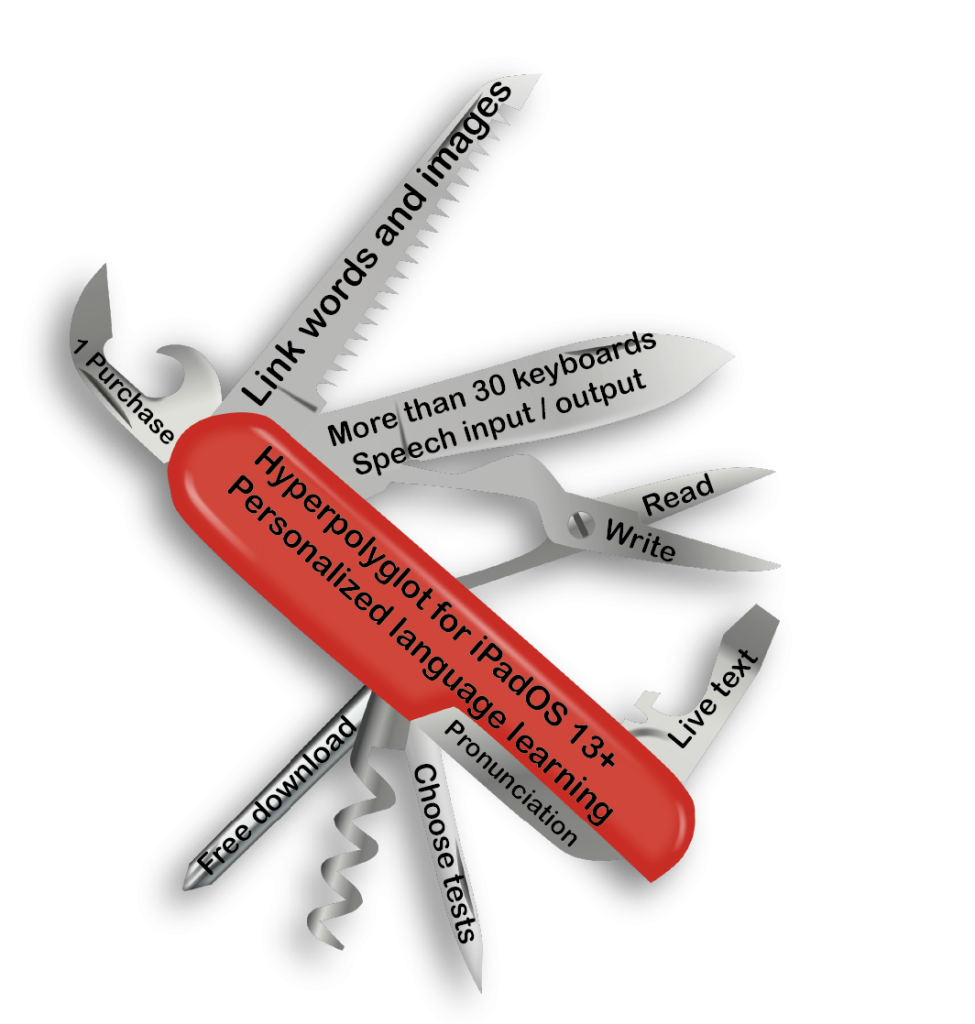 Hyperpolyglot makes extensive use of the latest Apple technology and will give your iPad a serious workout. You will love the results.
An iPhone version is in development. If you would like to see it on a third platform, tell us in our forum. You will influence that decision and make it happen quicker.
Currently, it runs on iPadOS 13 or newer. [An iPhone version will be released in the middle of this year (2022)]. Even If you do not possess an iPad which could run this software, please continue reading as you should find what I have learned about language learning, interesting. Then go to the forum and tell us what you would like to see it running on.
Download free on iPadOS 13 or newer
Hyperpolyglot is unique. It's a new tool and a new concept. You can fit it into the way you learn languages or build your language learning round it. I will explain, but first.
How do you feel when you think you have learned a new word or phrase only to find you have forgotten it? I remember faces, but quickly forget names and new foreign words.
The problem is that we forget what doesn't get into long-term memory and even then, it needs occasional refreshing. It is the same for everybody and it is very frustrating. It dictates the speed at which we can learn and the time and effort required to reach our learning goal. I use Hyperpolyglot to minimise this problem for me and I explain how on our Facebook page.
In developing this app, I researched the philosophy behind the most successful existing language learning apps for facts and techniques on which the experts behind these apps are agreed. What I found is interesting. First, and most importantly, they are all agreed that you can learn a new language irrespective of age or perceived ability provided:
You have a passion for the language and a love of the culture.
You adopt and maintain a regular daily practice schedule.
You practice spaced repetition of new material.
You are able to "battle on" when you encounter an obstacle to progress.
They also agree on the desirability of being able to "immerse" in the language by living in the country (impractical for most), speaking 1 to 1 with a good tutor (relatively expensive) or at least watching films, TV or reading books (not easy when you are a beginner unless you can find the right material for your level).
There are also websites where you can find a language learning partner who speaks your target language and who wishes to learn your native language. Then you can help each other for free and gain a friend in the process.
They also agree that people tend to learn by one or more of the following techniques:
Visually by linking new words to images they can use to recall the word.
Orally by listening to the sound of the word or phrase.
Kinetically by writing, typing or some other movement, perhaps rhythmic.
What else do they agree on?
Well, not much really! There seems to be a range of beliefs regarding the best way to reach fluency in the minimum time. Often these people have successfully used different techniques and then gone on to launch very successful businesses based on those techniques. It is difficult for anybody to know which is the best technique for them and, consequently, which is the best app or program to choose.
So, where does that leave us in the search for the best app or program for us?
We should read as many reviews as possible and then take advantage of free versions and free trial periods before proceeding to sign up for a monthly fee and finally a yearly or lifetime commitment. The price per month will go down significantly the longer the commitment, but also the bigger the gamble on it working out in the long run. With Hyperpolyglot you only make a one-time payment for lifetime use.
Perhaps you have already tried one or more language learning apps or taken a course at school or college and you have been asked to learn words and phrases which don't interest you. Meanwhile there are other words and phrases you do want to learn but they just never seem to come up. We have a solution to this problem in Hyperpolyglot.
Now, Hyperpolyglot.
Hyperpolyglot has been developed to address problems highlighted in reviews of existing apps. In doing this, it has grown into the language learning equivalent of a "Swiss army knife". It's design objectives include:
Providing maximum flexibility to accommodate as many users, user levels, learning styles and, of course, as many languages as possible.
Providing a canvas for making, importing and viewing images and linking them to text.
Improving pronunciation with speech input and output.
Improving reading and writing in the target language.
Increasing vocabulary by getting words and phrases into long-term memory.
Hyperpolyglot will aim to achieve these objectives by allowing you to:
1) Add your own words and phrases. You never have to learn anything you are not interested in and everything is at the level you choose. There are numerous sources of freely available words and phrases for all the most popular languages from school books and phrase books to apps, websites and YouTube.
2) Use the microphone or the keyboard to enter content. Most foreign keyboards pop-up automatically. There are three ways to get foreign input.
a) Use audio straight from Google Translate or similar on a 2nd device.
b) Use Google translate or similar on your iPad simultaneously with Hyperpolyglot by copying and pasting translations to Hyperpolyglot.
c) Repeat into your microphone what you hear Google say. This is a good way to improve your pronunciation. You can cancel input and retry as often as you like or just give up and use the keyboard.
3) Enter and use up to ten languages of your choice, but you are advised to stick to just one language if you are a beginner.
4) You can link words or phrases to drawings, photos or images from the internet. Photos could be of parts of your language learning notebook.
5) Test yourself on all your entries for a given language or any subset you choose. Hyperpolyglot is not a spaced repetition system (SRS). It is up to you to review your words and phrases by scrolling the complete list or using the search facility and selecting for test anything you want to revise. You can delete it again from your test selection at any time. This approach allows you to select material and revise it as often as you like. Some people need more repetition than others.
6) Tests can be done across any, some or all of your languages. You have complete control over what you select.
7) Test by translation to or from your native language turning linked images on or off as required to aid recall. Alternatively, turn off your native language and just test your recall of the foreign word or phrase by visualising the linked picture in your "mind's eye". If you fail to visualise the picture after some thought, just tap to turn it on briefly to refresh your memory of it and the link.
8) Use speech input in tests to avoid typos, but beware, no speech input is 100% correct all the time, especially if your pronunciation is not close to standard for that language. This is great for polishing your pronunciation. You can repeatedly cancel and retry until it's right or revert to the keyboard and blame Apple's speech recognition engine. Conversely, you know your pronunciation is good when you speak the phrase and it comes up right first time.
A rule based Artificial Intelligence (AI) gives you helpful clues in tests and remembers if you have answered correctly. You can reset your test score at any time. We always say…"The hint system is on your side". You will know if you are abusing it by cheating!
So, Hyperpolyglot is the "Swiss army knife" of language learning, but it is not a structured program. We would advise you to use it with a structured learning program, especially if you are a beginner. If used on its own, you will have to provide your own structure, level, targets and goals and be disciplined about setting up your own timetable and keeping to it.
In my blogs on our website I shall be explaining how I am using Hyperpolyglot in conjunction with the highly rated, structured learning program, GreekPod101 to maximise my progress with learning Greek from beginner level.
Please look at the short "how-to use" videos in the link below. I use green arrows in these videos to direct your attention to the button being described in the commentary. If you follow these instructions you should have no problems in using this app, even if you are new to iPads.
These videos are also accessible via a link in the app which also has a 20 page built-in user guide.
Please consult the videos and the handbook before asking for help on our website help page. We will never leave you "stuck" on a problem but we are very busy working on the iPhone version. Alan has already put a lot of work into the user guide and I have done the same with the videos.
When you use this app, we would love to hear from you as to how you like it and what languages you are using it with. You could create an account on our website and start a forum thread on its use in your language. We have only tested it in a few European languages so there is no knowing what you will find if you are learning or know an Asian or African language for example.
Introduction
Add languages, words & phrases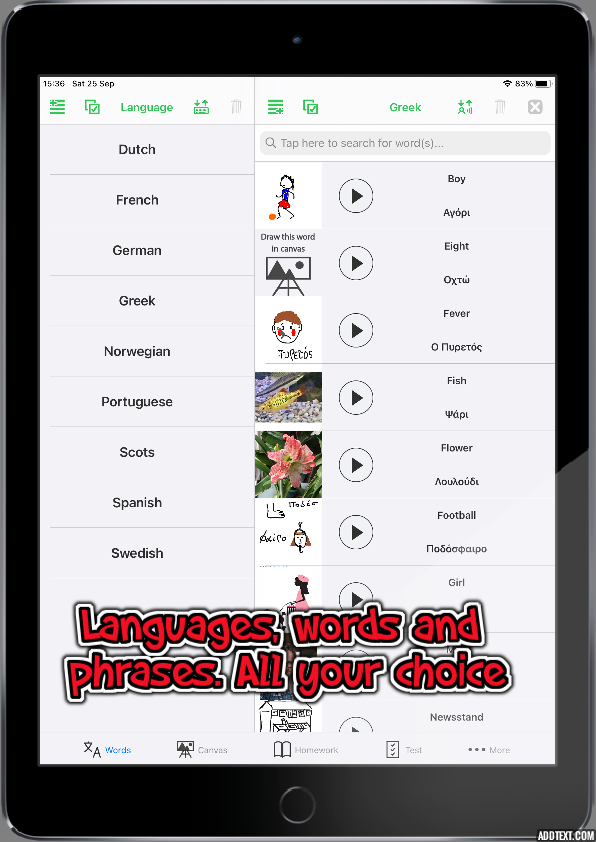 Learn by visual association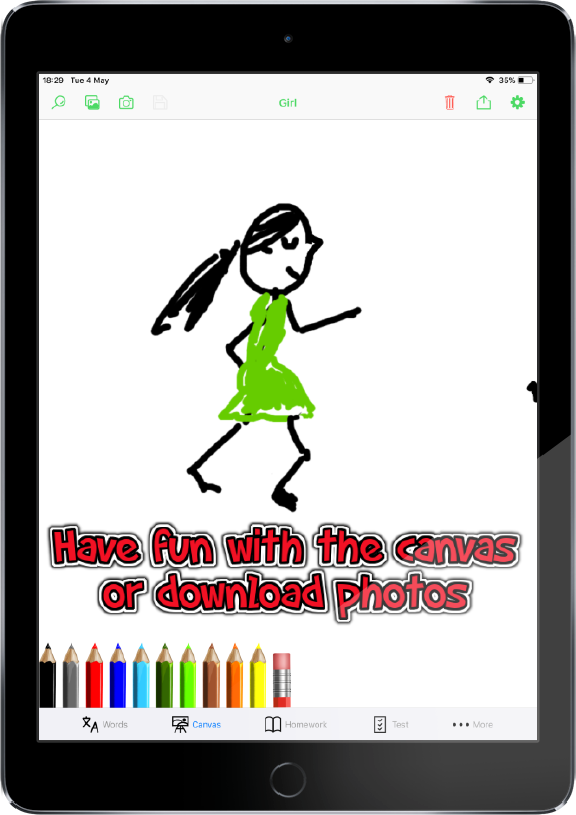 Select one or more languages to be tested on
Homework is a selection of words and phrases to be tested on in from 1 to 10 languages. In the above video, selected languages included Greek, French and German and the word for boy was in all three.
Progress report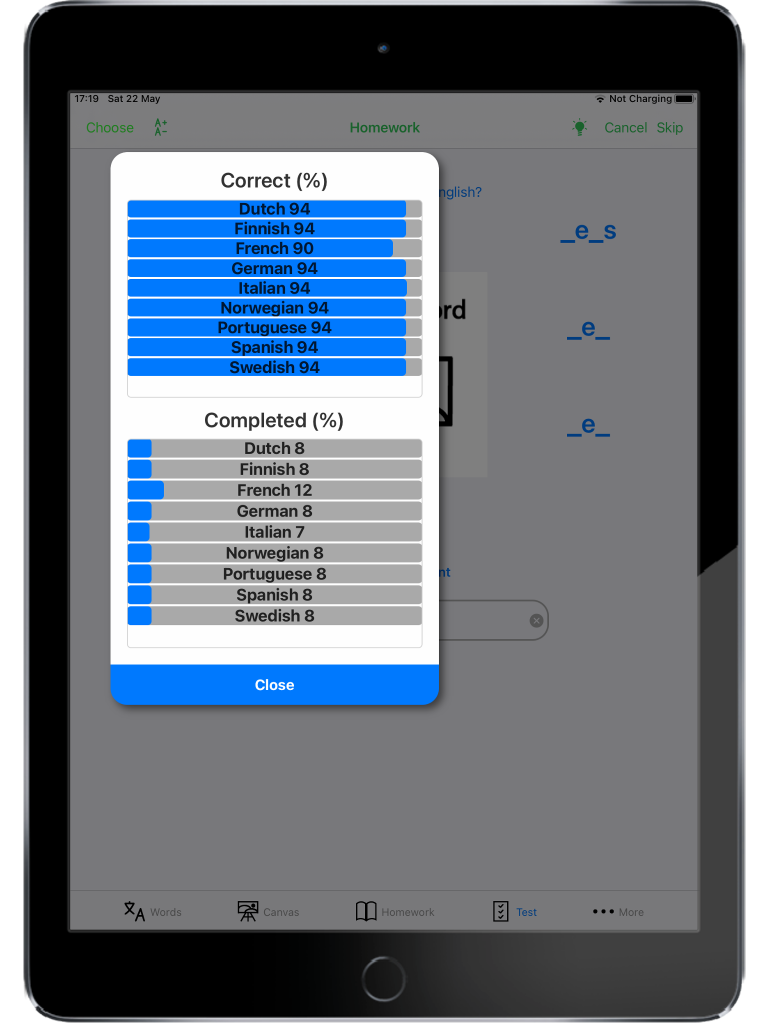 Click this link: Hyperpolyglot Guide for "How-to" videos.
Summary
Choose up to 10 languages
Enter, edit and delete languages, words and phrases
Test yourself
Tap play to listen
Tap canvas to link an image
All stored in your iCloud
No in-app ads even in the free version
One in-app purchase unlocks the canvas and words limit
Free version has no time limit
Download free on iPadOS 13 or newer